Naira Díaz-Moreno
Institution: University of Almería
Country: Spain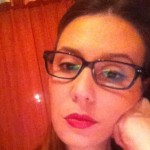 I am currently a Postdoctoral Fellow at the University of Almería (Spain) in the Department of Education - Division of Science Education.
As a Postdoctoral Fellow, I have had the opportunity to teach Science Education to undergraduate students as well as a graduate-level students.
I have five years of teaching experience as a teaching and research assistant at the University of Almeria (Spain) and I have attended to several national and international conferences presenting both communications and posters. In 2012, I was a Visiting Lecturer at the, University of Padua (Italy)- Padova Science Technology and Innovation Studies, teaching social networks analysis. In 2015, I presented and discussed my research project with Professor J. Randy McGinnis, Professor of Teaching and Learning, Policy and Leadership (TLPL) and his NSF funded research team MADECLEAR - Maryland and Delaware Climate Change Education and Research and in 2016 I repeated my visiting experience at the EPI-STEM center, University of Limerick (Ireland).
I received my Ph.D. in Science Education at the University of Almería (Spain) in which I investigated indicators of socioscientific issues in the written press and how to apply those indicators to a local issue (water) for its later use in classroom. Since 2012 I published my dissertation findings in several educations journals.