Andreas Gebhardt
Institution: University of Applied Sciences Aachen
Country: Germany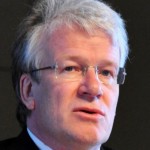 Andreas Gebhardt is Dean of the Faculty Mechanical Engineering and Mechatronics of the University of Applied Sciences Aachen and Head of the "GoetheLab for Additive Manufacturing".

He studied mechanical engineering at the Technical University Aachen, Germany (RWTH), where he received his Engineering Diploma (Dipl-Ing). In 1986 he passed his doctoral exam (Dr-Ing) at the same university with a thesis on the "Simulation of the transient behavior of conventional power plants."
In 1986, Mr. Gebhardt was appointed general manager of a company that specialized in engine refurbishment. In 1991, he moved to general manager at the LBBZ GmbH, a service bureau on laser material processing, where in 1992, he started working on rapid prototyping.
When in 1997, the CP Center of Prototyping GmbH, an Additive Manufacturing Service Bureau was founded, he transferred there as a general manager.

With the beginning of the spring term in 2002, Mr. Gebhardt was appointed Professor for Advanced Fabrication Technology and Rapid Prototyping at the Aachen University of Applied Sciences (FH Aachen) where he established an AM Team and Lab called the GoetheLab for Additive Manufacturing.

Since 2002, Mr. Gebhardt has also been a guest professor at the City College of the City University of New York (CCNY).
In 2012, Mr. Gebhardt was elected Dean of the Department of Mechanical Engineering and Mechatronics, FH Aachen – University of Applied Sciences.
In November 2014, he was appointed extraordinary Professor at the Tshwane University of Technology (TUT), Pretoria, RSA.

Mr. Gebhardt is Chairman of the AM Research Committee (FA13) of the German Welding Association (DVS) and he heads the team of the "Aachen Center of 3D Printing," a joint research group of FH Aachen and Fraunhofer ILT AM specialists.

Since 2004 Mr. Gebhardt has been the editor of the peer-reviewed, open access online journal on AM called the RTeJournal.