Enver Sele
Institution: Phd Candidate in European University of Tirana and Expert - Tax Administration of Kosovo, Regional Office in Prizren-Kosovo.
Country: Kosovo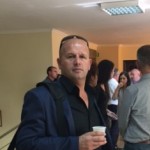 Enver Sele is a PhD Candidate at the European University of Tirana, where he is studying to complete the dissertation with the topic: Role and Use of Profit Taxes and Economic Growth of Kosovo, a topic which is the first one in this area, intended to describe the tax system and progress of fiscal indicators in Kosovo for the period after liberation and establishment of the newest state of Europe, Kosovo, comparing it to the regional countries in relation to the tax rate and negative effects of the high tax marginal rates in the economy of a given country.

He has completed Bachelor studies at the University of Pristina, Faculty of Economics, with specialty: Economic Management and Entrepreneurship (Integrated Diploma).

From 2003 to date Enver has been working at the Tax Administration of Kosovo, Regional Office in Prizren-Kosovo. Since 2003 he has worked at the Tax Administration of Kosovo, taking over all contract assignments as tax inspector, where during these years he has audited over 100 business entities in conformity with the Tax Legislation of Kosovo and implementation of the Plan for Kosovo Strategy 2010-2015.

During the last five years Enver has attended a number of international conferences and published some articles in international magazines such as in Finland, Italy, Greece, Canada, Macedonia, Albania and Kosovo. The topics by which he is introduced are basically related to the tax system of Kosovo, which is still not consolidated as a result of being a new state with traditions based on a fiscal system inherited from the former Yugoslav Federation, a system based on the planned economy built upon socialist concepts of the operation of taxes, contributions and state intervention by underestimating economic legitimacy.
In cooperation with some business companies in Kosovo, Enver has become part of some various projects and training seminars, aiming to promote and inform local business entities for the observance of Kosovo tax legislation.

Areas of expertise: economy, finance, taxes and implementation of Kosovo tax legislation, administration, management of projects based on tax information.