Songpon Phadungphatthanakoon
Institution: Srinakharinwirot University
Country: Thailand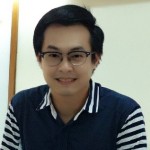 I am studying in a Doctoral of Education in the Program of Science Education, Srinakharinwirot University.

I graduated in Science, Bachelor's Degree of Science in Chemistry (second class honor) from Srinakharinwirot University in 2008. The Master's Degree of Science (Organic chemistry), from Chulalongkorn University in 2011.

During master study, I had a great opportunity to present the work in poster session in the topic of "Encapsulation N-eicosane as phase change" at the 14th Asian Chemical Congress (14th ACC) and publication in 2011 "Increasing thermal storage capacity of phase change material by encapsulation: Preparation and application in natural rubber", ACS Mater. Inter., 3, 3691-3696. If you are interested in my study, I am more than happy to share when we meet.

EXPERIENCE

February 2012 - April 2013: A science teacher at Chalermkarnchana College, Buriram, Thailand.

May 2013 - May 2014: A sale representative and technician for chemical analysis instrument (GC, GC-MS, LC-MS, ICP-MS) at world tech enterprise Ltd., Bangkok, Thailand.