Barbara Losoff
Institution: University of Colorado Boulder
Country: United States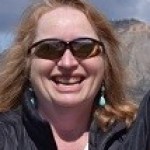 Barbara Losoff is a life science librarian and associate professor at the University of Colorado Boulder Libraries in the United States.
Barbara graduated in Earth Sciences from Youngstown State University in 1981, obtained a Masters in Basic Science from the University of Colorado, Boulder in 1987, and a Masters in Library Science from Emporia State University, Kansas, in 1992. She has held positions at the U.S. Environmental Protection Agency, the U.S. Bureau of Mines, and the National Renewable Energy Laboratory. For the last 18 years she has been a chemistry and life science librarian on the University of Colorado Boulder Libraries faculty where she received tenure in 2012.

Barbara's areas of research include scientific data stewardship, open access publishing in the sciences, open data, information literacy, and she has explored new methods for engaging science students. In particular, through collaborations with libraries' colleagues and teaching faculty, Barbara has explored using scientific rare and historic materials, along with maps, and science themed artists' books, to engage STEM undergraduate students. Her specific focus is on writing in the sciences and scientific communication. In addition, she is actively involved in identifying science collections for digitization projects in order to make them available to the general public and to researcher's world- wide.

Barbara's current project is working with the papers of T.D.A. Cockerell which are held at the University of Colorado Boulder Libraries. Cockerell, a CU professor in the early 20th century, was an entomologist and a recognized expert on bees. He published more than 3000 articles and was a protégé of Alfred Russel Wallace (co-founder of natural selection along with Charles Darwin). Cockerell also collected fossilized bees and insects from what is now a U.S. national monument, the Florissant Fossil Beds in Colorado. Barbara is collaborating with the CU Natural History Museum and the head Paleontologist at Florissant Fossil Beds National Monument to digitized Cockerell's field notes, glass lantern slides, and photographs—making them available to the world.

Areas of expertise: information literacy for STEM students, digitization of archival works, higher education STEM initiatives that include rare and historic works along with arts, STEAM.