Deborah Hollis
Institution: University of Colorado Boulder Libraries
Country: United States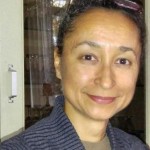 Deborah Hollis is an Associate Professor and Interim Director of Special Collections & Archives at the University of Colorado Boulder Libraries. Her research agenda includes the use of material culture in teaching and learning, and special collections and archive administration. She joined the CU Boulder Libraries' faculty in 1993, after earning a Master's in Library Science from the University of Arizona in Tucson, Arizona and completing the Mary P. Key Diversity Residency, a post-graduate program at The Ohio State University Libraries. She was awarded tenure in 2000 and has served in various leadership roles in CU Boulder's library. She is a member of the Academy of Certified Archivists and Society of American Archivists.
Hollis writes about the use of rare works and primary sources in the classroom. She has developed a robust library instruction program that results annually in over 3,000 students receiving active-learning instruction using special subject collections and primary source materials. CU Boulder students work with unique and rare materials to complete course-integrated assignments, develop student-curated projects and conduct research. For many years, she has partnered with Life Sciences Librarian and CU Professor Barb Losoff, and CU Writing Instructor Danny Long, to teach undergraduate science majors writing and rhetoric skills with material culture and book binding techniques. STEM students learn the role that Western European book history and print culture played in the transfer of scientific knowledge. Her 2014 co-authored article, "Science Instruction Through the Visual Arts in Special Collections," published in portal: Libraries and the Academy, explored the use of visual imagery in undergraduate science teaching. Together with co-authors Brown and Losoff, she studied the use of artistic works to create STEAM instruction for science classes.
Deborah currently studies the use of science-focused archival collections for interdisciplinary teaching and learning. Her interests include the use of archival and historic science collections as source material for digital projects, theatre and dance performances, children's literature and comic books and graphic novels. She is a member of the CU-Boulder and Dartmouth College Stainforth Library of Women's Writing digital humanities team. The project team created a digital edition of a nineteenth-century book collector's library catalogue to trace the works of British and American women authors over four centuries. In particular, she is attempting to identify women who, in earlier times, used the accepted method of poetry and children's literature to write about and illustrate the natural world.
Areas of expertise: rare books and archives administration, the use of rare works and primary sources in the classroom, teaching and learning in higher education, and diversity in academic libraries.