Danny Long
Institution: University of Colorado Boulder
Country: United States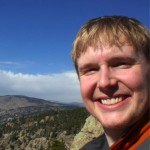 An instructor for CU-Boulder's Program for Writing and Rhetoric, Danny Long teaches first-year composition, business writing, travel writing, comedy writing, and science writing—his favorite. Much of his science-writing curriculum concentrates on the scientist-nonscientist exchange. Science, Danny believes, is at its best when shared.

Danny is also interested in the social stakes of scientific research and development, a subject he pursues in his science-writing classes with the help of CU-Boulder's Department of Special Collections and Archives. It was this work that introduced him to his co-presenters at this year's New Perspectives in Science Education conference, Deborah Hollis and Barbara Losoff.

Danny received a B.S. in Integrated Marketing Communications and a B.A. in English from Southern Illinois University Carbondale in 2007 and an M.A. in English literature from CU-Boulder in 2011.