Ombretta Pediconi
Institution: International Centre for Veterinary Training and Information (CIFIV) - Istituto Zooprofilattico Sperimentale dell'Abruzzo e del Molise (IZSAM)
Country: Italy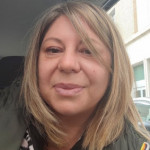 Senior Trainer at the International Centre for Veterinary Training and Information of Istituto Zooprofilattico Sperimentale dell'Abruzzo e del Molise, she manages training and knowledge based projects in various fields of animal health and veterinary public health. Responsible for the training programs delivered face-to-face and at distance by IZSAM as National Provider of Lifelong Education in Medicine.
She is qualified project manager, skilled class tutor, and eLearning content developer. In the last years she has managed BTSF residential training courses on microbiological criteria and zoonoses, controls at BIPs, controls on FNAO.
She is pedagogical expert in the BTSF eLearning projects and project manager of the training events and eLearning courses carried out by IZSAM as National Reference Centre and Laboratory.
She collaborates in the development of courses and workshops for OIE, FAO, TAIEX, IAEA. Short term expert in the framework of cooperation and technical assistance projects.