Vanja Čotić
Institution: University of Rijeka
Country: Croatia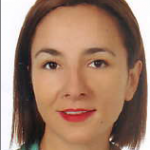 Vanja Čotić is a lecturer at the Mathematics Department at the Faculty of Engineering University of Rijeka, she teaches several courses in mathematics. The Faculty carries out university and vocational undergraduate and university graduate courses in the area of Mechanical Engineering, Naval Architecture, and Electrical and Computer Engineering.

Vanja graduated in Mathematics (Financial and Business Mathematics) at the Department of Mathematics, Faculty of Science, University of Zagreb.

She also works as a part-time lecturer at the Business School PAR, private higher education institution that offers a three-year BA study program in Business Management, where she teaches mathematics and statistics.