Normunds Balabka
Institution: Riga Technical University
Country: Latvia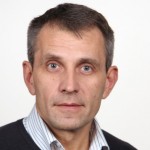 I'm lecturer in Riga Technical University since 2003. until 2016. At present I keep assistant professor duties in Riga Technical University.
Till this time I got Mg.oec., Mg.sc.edu., Mg.sc.pol., Mg.iur. degrees.
Plus mentioned, since 2012 I fulfill responsibilities of the director in the Ulbroka secondary school.
In this moment I'm Mg.theol. candidate and PHD degree candidate in pedagogy science.