Laureline Van Overmeir
Institution: Université Libre de Bruxelles
Country: Belgium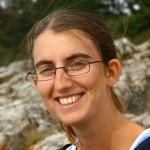 Laureline Van Overmeir is a Ph.D student at the faculty of sciences at the Université Libre de Bruxelles.
She graduated in chemistry at the same university in 2012. Since then she has been working in the field of organic chemistry education for the secondary school program.
At present she is carrying out research in secondary level organic chemistry classrooms. The aim of her research is to provide teachers with an alternative way to introduce organic chemistry in their class in order to eliminate some common misconceptions students may express about organic chemistry.